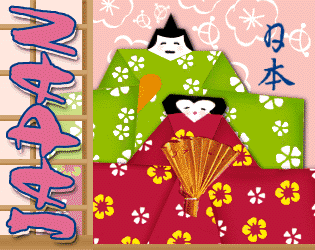 Living and Working in Japan

Scenario:

Soon after graduating from college you are employed by a multi-national company with major offices in Tokyo, Japan. You learn the hard way how to behave, what unstated company rules are, and how to get along with your Japanese co-workers. You are so successful that the company wants to expand operations in Japan, and they want you to write the company handbook for American employees living in Japan.

The Task-A Company Handbook for American Employees in Japan:
Cover
-Put the name of the company and identify what they make. Choose a real company that makes a product from the list of "Best Export Opportunities for American Firms."
Title page
-Choose an interesting title for your book (one book on Americans living in Japan was called Learning to Bow), put your name as the author, put your teacherís name as the publisher along with the period (example: Demonet Publishing Co., Period 5, copyright-February 25, 2000).
Table of Contents
-List all the chapters, other sections, give each chapter an appropriate title, list the page numbers.
Preface
-Write a scenario for your education and subsequent employment. Tell about the company and your trials and tribulations when you first came to Tokyo to work. You may use some of the real incidents from Learning to Bow.
Chapter 1
-The Japanese Office: This section will explain the environment, office hours, protocol, arrangement of the physical environment and how it differs from the American office, treatment of women in business (OL-office lady), team work, etc.
Chapter 2
- How to be Successful in Japanese Business-Negotiations, dress, business cards (Meishi), Hanko, gift giving to business colleagues, entertaining business colleagues, understanding hierarchy and seniority, language and correct terms, work hours, etc.
Chapter 3
- Your Japanese Co-Workers or "Salaryman": Explain something about their lives, education, religion, families, marriage, customs, school cliques, same year group (dokikai)etc.
Chapter 4
-Living in Japan-Shopping, food, housing, dating, commuting (subways), railways (shinkansen or bullet train), vending machines, bathing, etc.
Chapter 5
-What to do on your rare time off-Places to visit (major cities), entertainment (karaoke, pachinko), recreation, shopping, vacations, holidays, sports (sumo and baseball), climbing Mt. Fuji, etc.
Chapter 6-
Your choice-some suggestions are: Interview someone who has lived in Japan, do a glossary of Japanese sayings, write about some Japanese customs, Japanese dress, arts and crafts, Japanese cartoon movies, etc.
Bibliography

Other Requirements:
Each section should be a minimum of one page typed in a 12 point font and spacing similar to this page. You may have more to write in one section than another.
An illustration that enhances the content should accompany each section. This illustration could be a diagram, map, illustration, chart, picture, or graph. Make sure there is a caption.
Each section should be written from the point of view of a young American business person, in your own words, in a formal writing style. Do not use slang or contractions.
Some information that you gather may fit in more than one section. You may choose one section to put it in. Please do not be redundant.
Links to Sites on the Internet:

JETRO-Japan External Trade Organization

http://www.jetro.go.jp/top/index.html

This is a web site to help foreigners who want to do business in Japan.

Stanford Guide to Japan Information Resources

http://fuji.stanford.edu/jguide/

This compilation of links will help you find a information on culture, geography, and business.

Doing Business in Japan-Tomís Diary

http://www.jetro.org/newyork/html/tomsbizdiary/tomsbizcurrent.html

This site has great information on living and working in Japan through the diary of an American and his family transferred to Japan. The web site tackles situations like how to find a house, correct manners, Japanese workers, etc.

Japan: Living Guidelines Manual

http://www.ntt.co.jp/japan/living/lm.html

An online manual for those foreigners who will be living and working in Japan.

Originally intended for those staying at NTT R&D Centers, but useful to anyone wanting an"inside" look at considerations for daily life in Japan.

Japan National Tourist Organization

http://www.jnto.go.jp/

Lots of information and images of modern and traditional Japan are offered here.

Explore this site and visit many interesting parts of Japan by following the links. Includes many detailed maps of cities and regions. (An official Japan government site.)

Japanese Information

http://www.ntt.co.jp/japan/

This compilation of sites is sponsored by the Nippon Telegraph and Telephone Corporation. This page gathers together links to information on a variety of subjects related to Japan: Culture, travel, business,government and law, sports, geography and more.

Kyodo News Web

http://home.kyodo.co.jp/

Major news organization of Japan and Asia offers news stories and latest headlines

from Asia and the world. Includes Asia Briefs section, plus a search engine which brings up articles from the archive of past articles.

Mainichi News

http://www.mainichi.co.jp/english/index.html

Mainichi News is a major daily newspaper in Japan offering (in English) Politics,

Business, Domestic and Editorial news. Check here for the latest news and information with a Japanese point of view.

Japanese Business Protocol

http://www.asiasource.org/business/2know/japan.cfm

This is an excellent source for how to behave in business situations.

Japan Country Profile

http://www.asiasource.org/profiles/ap_mp_03.cfm?countryid=18

Another source for country information about Japan.

Business Japanese

http://www.jetro.go.jp/it/e/bj/lesson.html

Japanese language lessons for the correct words and phrases in business situations.

Japanese Language Lessons

http://www.japanese-online.com/language/LSNIndex.HTM

The LA County Office of Education Links on Japan

http://teams.lacoe.edu/japan/web.html#arts

You will find information on culture, history, sports, literature and geography.

World Safari

http://www.supersurf.com/index.htm

In the left hand frame, choose Japan for information on geography, culture, sports, government, and language.

Japan Information Network

http://jin.jcic.or.jp/

This list of links will help you gain a deeper understanding of Japanese society, culture, economy, arts, geography with a virtual tour of Japan.

Kids Web Japan

http://jin.jcic.or.jp/kidsweb/

A web site designed for students, this colorful electronic pamphlet on Japan will allow you to click on a picture to find out about daily life, sports, government, schools, family, the regions of Japan, etc.

Japan Foundation

http://www.jpf.go.jp/

Japanese History

http://www.japan-guide.com/e/e641.html

Asian Business Travel Guides

http://www.worldroom.com/

Japan Country Travel Guide

http://web3.asia1.com.sg/tnp/journey/travel/japan/japan.html

A Global Traveler

http://www.aglobalworld.com/

Lonely Planet Japan Guide

http://www.lonelyplanet.com/dest/nea/jap.htm

Security Guidelines for Americans Overseas

http://www.state.gov/www/about_state/business/business_travel.html

Embassy of Japan

http://www.embjapan.org/

Books

Illustrated "Salaryman" in Japan.

Tokyo, Japan: Japan Travel Bureau, Inc., 1996.

Feiler, Bruce S. Learning to Bow. New York: Ticknor and Fields, 1991.

James, David L. Doing Business in Asia. Cincinnati, Ohio: Betterway Books, 1993.